These Printers are designed to print barcode labels that can attach to other objects.  Printers use either direct thermal or thermal transfer techniques to apply ink to labels. Both printers are often similar because of their print heads to create barcode images but they used different applications.
Types of the barcode of printer
Best Printer as per work?
There is more than one type of barcode printer is available in the market. They have different capabilities more label sizes. Here are some standard options available in the market :
A desktop barcode printer is smaller than a traditional office printer, making it ideal for small spaces and companies that don't need to print a large number of barcodes every day. These are affordable options for those in the retail, healthcare, and travel/hospitality sectors.
Industrial printers print large quantities. It has a broad media ability and prints at a higher resolution, allowing it to produce levels of any scale. It is designed to perform for warehouse and manufacturing environments.
It prints barcodes in high volume, at high speeds, and in harsh environments 24/7 hours and ensuring that the manufacturing operations are never disrupted. Media hangers, rewinders, and peelers are popular features on industrial barcode printers.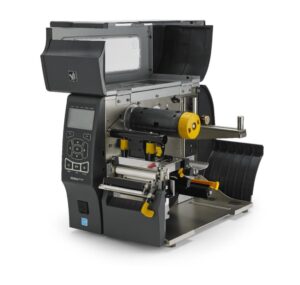 These printers are compact but durable, able to withstand outdoor conditions and the shock of falls. They are best used for printing barcodes on the go. Transportation and logistics, healthcare, and government are only a few of the industries that can benefit from these. Handheld printers are another name for these printers.