Barcode Scanner
To encode information in a graphic pattern readable by a computer, a barcode is used. Barcodes are used in a computer software system for a number of purposes, including monitoring items, costs, and stock levels for standardized documentation.
There are typically three different components of a barcode scanner, including the lighting mechanism, the sensor, and the decoder. In general, by lighting the code with a red light, a barcode scanner "scans" the black and white components of a barcode, which is then translated into corresponding text. More precisely, the sensor senses reflected light from the lighting device in the barcode scanner.
More precisely, the sensor senses the reflected light from the illumination device (the red light) in the barcode scanner and produces an analog signal which is sent to the decoder. The decoder interprets the signal, uses the check digit to validate the barcode, and translates it into text.
Top 3 Barcode Scanner in India: 
1 . Honey-well: Honeywell MK7120 Orbit Hands-free Barcode Scanner
Features:
It is Hands-free Scanning Device
20-Line Scan
With its Superfast speed of 1,120 Scans Per second
30-Degree tilting
Honey well orbit is a hands-free scanner and it is one of the best scanners in the market. It is a hands-free laser scanner.
Honey well easily scan 1D barcodes and its usages generally in supermarket and warehouses.
It supports the 20 line barcode scanning patterns, which is very useful and with its fabulous speed it can scan the 1D barcode with 1200 per second speed. With its powerful speed, it can easily scan even the smear barcodes within a second.
Honeywell MK7120 Orbit is a hands-free and fixed type of scanner. It doesn't matter which type of operating system you are using, It supports all the operating systems.
For targeted screening, it supports moderate 30-Degree tilting. If you have a major package to check, so it is easy to tilt the scanner to get the barcode scanner. It attaches to a device or POS machine using a USB 2.0 cable.
Pros:
Supports Hands-free operations
1D Barcode scanning for all barcode forms
Supports 20-Line barcode scanning pattern to search correctly
Superfast scanning speed of 1,120 Scans per second
Wired USB 2.0 networking option with support for all operating systems
Cons :
After Sales Service is not good
2. RETSOL LS450 Wired Barcode Scanner 
Features:
Handheld Design
Bright Laser Diode
USB 2.0 Connectivity
IP54 Water-Resistant
ABS Plastic Construction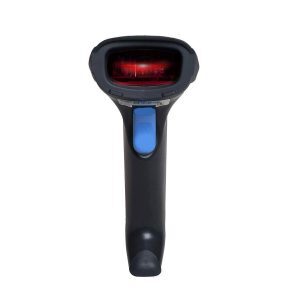 This scanner is for those who want to barcode scanner for high volume scanning and it comes with a handheld design, which is more useful in warehouses, It can easily support 1D barcode scanning.
Restols barcode scanner, you can easily scan the 1D barcode in dark and bright environments even the external lighting conditions won't affect this performance, and it comes with a bright laser diode.
Its 32-Bit decoding processor performs 100 scans within a second.
It comes with wide-angle encoding for scanning huge items and barcodes.
For those that use it in stores and factories, it is a valuable tool.
You don't have to think about the installation of the Plug and Play USB 2.0 connectivity, since it doesn't need one.
The greatest thing we've discovered with this product is that the IP54 Waterproof body comes with it.
Pros :
Plug and Play System for quick use
32-Bit Decoder processor for accurate scanning
With IP4 Water-resistant body
Suitable for high volume scanning in warehouses
Fits very well in the sense of dark and bright lighting
Cons :
Doesn't Support Automatic Scanning
Slow Scanning speed
3. Honeywell MK5145 Eclipse Handheld Barcode Scanner 
Features:
Pulse Mode
Firmware Flash Support
1D Barcode Scanning
Codesense & Codegate Technology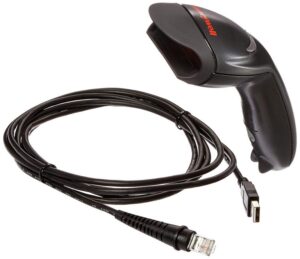 If you are looking for the best barcode scanner for retail stores then this handheld will be the best choice for your needs.
Honeywell is a famous brand in the electronics segment. Barcode readers are the top products from a honey well in India.
Honeywell has CodeGate and CodeSense innovations and has introduced them in the portable barcode reader for the MK5145 eclipse.
CodeGate technology makes it easy for the barcode to be scanned and the data transferred to the device. After finding the barcode, the CodeSense technology automatically turns the pulse scanning mode on. The technology of CodeSense has resulted in simpler and more precise scanning.
The Honeywell MK5145 Eclipse comes with the standard 650mm transparent laser diode for precise scanning, just like every other device. The laser diode is very solid and even smudged 1D and GS1 Databar barcodes are screened. Since this is a handheld item, Honeywell took care of it and made it ergonomic. With this product in heavy use, you would not feel any difficulties. While this item's price is low.
Pros:
It has fast scanning with code gate and code sense technology
Continues beaming mode for fast scanning
It can scan smudged barcodes mode for fast scanning
Cons:
Low-quality construction
Expensive barcode scanner
Conclusion:
Almost all the industries are using barcode scanners nowadays, there are so many scanners are available in the market but if you are looking for the best barcode scanners in India for 2021 then we have already mentioned it. You guys can compare them all and buy the best one as per your use.